Young Adults
Our post-high school adults gather for special events throughout the year, including Sunday morning fellowship group, Tuesday night Bible Study (Connect 7- 8:30PM), weekend retreats, game nights, and more. Along with time together as peers, we encourage young adults to participate in the many groups and service opportunities offered by the broader church. Together, we strive to live out our four values:
SEEKING GOD | We commit to spending time with God individually and when we gather as a group.

DIGGING DEEP | We commit to studying the Bible, both together and apart, knowing that it is the ultimate source of truth.

BEING HONEST | We believe that meaningful relationships can only be built on a foundation of love, respect, and vulnerability and commit to being honest with one another to maintain healthy and growing relationships within our group.

STRENGTHENING COMMUNITY | We support each other throughout the ups and downs of daily life by being actively involved in each other's lives outside of our scheduled events. Personal effort and energy are required to keep our group strong.
Fellowship Group | sUNDAYS 9:45-10:30 am @ ebic rOOM 132
CONNECT Bible Study | 7-8:30 PM Tuesdays @ EBIC ROOM 132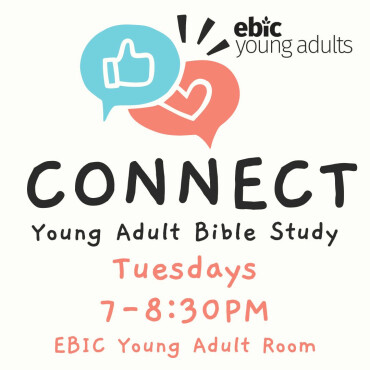 We stay in touch through a GroupMe messaging group. Join the conversation!
UPCOMING EVENTS: